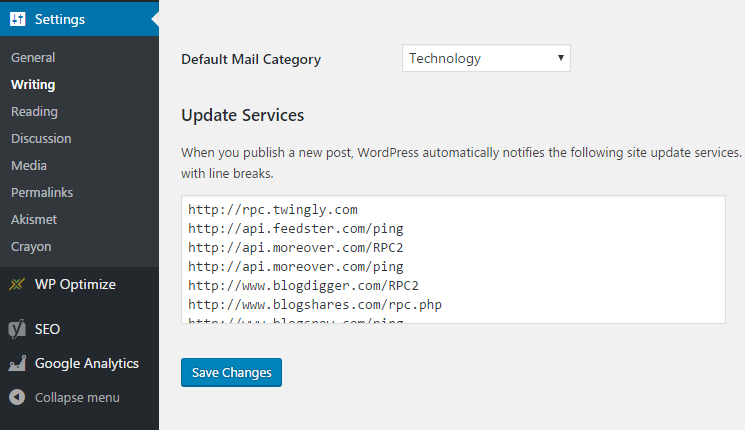 WordPress Ping List
Do you know you can improve your search engine index time by using wordpress ping list?
WordPress Ping service allows you to notify search engines that your blog has been updated. Ping is an XML-RPC-based push mechanism by which a blog notifies a server that its content has been updated.
WordPress Ping update service works automatically. Whenever you publish a new post or modify an old post, ping services notify search engine and blog directories to index it.
Updated WordPress ping list
Log in to your WordPress admin panel and navigate to the Settings section and click on Writing.  Scroll all the way down to the end then copy and past our updated ping list links in the available content box and save changes.
http://rpc.twingly.com
http://api.feedster.com/ping
http://api.moreover.com/RPC2
http://api.moreover.com/ping
http://www.blogdigger.com/RPC2
http://www.blogshares.com/rpc.php
http://www.blogsnow.com/ping
http://www.blogstreet.com/xrbin/xmlrpc.cgi
http://bulkfeeds.net/rpc
http://www.newsisfree.com/xmlrpctest.php
http://ping.blo.gs/
http://ping.feedburner.com
http://ping.syndic8.com/xmlrpc.php
http://ping.weblogalot.com/rpc.php
http://rpc.blogrolling.com/pinger/
http://rpc.technorati.com/rpc/ping
http://rpc.weblogs.com/RPC2
http://www.feedsubmitter.com
http://blo.gs/ping.php
http://www.pingerati.net
http://www.pingmyblog.com
http://geourl.org/ping
http://ipings.com
http://www.weblogalot.com/ping
http://rpc.pingomatic.com/
http://blogsearch.google.com/ping/RPC2
http://ping.feedburner.com
http://rpc.blogbuzzmachine.com/RPC2
http://rpc.weblogs.com/RPC2
http://ping.fc2.com/
http://blogs.yandex.ru/
http://rpc.bloggerei.de/
http://blogsearch.google.ae/ping/RPC2
http://blogsearch.google.at/ping/RPC2
http://blogsearch.google.be/ping/RPC2
http://blogsearch.google.bg/ping/RPC2
http://blogsearch.google.ca/ping/RPC2
http://blogsearch.google.ch/ping/RPC2
http://blogsearch.google.cl/ping/RPC2
http://blogsearch.google.co.cr/ping/RPC2
http://blogsearch.google.co.hu/ping/RPC2
http://blogsearch.google.co.id/ping/RPC2
http://blogsearch.google.co.il/ping/RPC2
http://blogsearch.google.co.jp/ping/RPC2
http://blogsearch.google.co.ma/ping/RPC2
http://blogsearch.google.co.nz/ping/RPC2
http://blogsearch.google.co.th/ping/RPC2
http://blogsearch.google.co.uk/ping/RPC2
http://blogsearch.google.co.ve/ping/RPC2
http://blogsearch.google.co.za/ping/RPC2
http://blogsearch.google.com.ar/ping/RPC2
http://blogsearch.google.com.au/ping/RPC2
http://blogsearch.google.com.br/ping/RPC2
http://blogsearch.google.com.co/ping/RPC2
http://blogsearch.google.com.do/ping/RPC2
http://blogsearch.google.com.mx/ping/RPC2
http://blogsearch.google.com.my/ping/RPC2
http://blogsearch.google.com.pe/ping/RPC2
http://blogsearch.google.com.sa/ping/RPC2
http://blogsearch.google.com.sg/ping/RPC2
http://blogsearch.google.com.tr/ping/RPC2
http://blogsearch.google.com.ua/ping/RPC2
http://blogsearch.google.com.uy/ping/RPC2
http://blogsearch.google.com.vn/ping/RPC2
http://blogsearch.google.com/ping/RPC2
http://blogsearch.google.de/ping/RPC2
http://blogsearch.google.es/ping/RPC2
http://blogsearch.google.fi/ping/RPC2
http://blogsearch.google.fr/ping/RPC2
http://blogsearch.google.gr/ping/RPC2
http://blogsearch.google.hr/ping/RPC2
http://blogsearch.google.ie/ping/RPC2
http://blogsearch.google.it/ping/RPC2
http://blogsearch.google.jp/ping/RPC2
http://blogsearch.google.lt/ping/RPC2
http://blogsearch.google.nl/ping/RPC2
http://blogsearch.google.pl/ping/RPC2
http://blogsearch.google.pt/ping/RPC2
http://blogsearch.google.ro/ping/RPC2
http://blogsearch.google.ru/ping/RPC2
http://blogsearch.google.se/ping/RPC2
http://blogsearch.google.sk/ping/RPC2
http://blogsearch.google.us/ping/RPC2
http://ping.blogs.yandex.ru/RPC2
http://ping.rss.drecom.jp/
http://rpc.bloggerei.de/ping/
http://rpc.odiogo.com/ping/
http://rpc.weblogs.com/RPC2
http://blog.goo.ne.jp/XMLRPC
http://mod-pubsub.org/kn_apps/blogchatt
http://ping.amagle.com/
http://ping.bloggers.jp/rpc/
http://ping.exblog.jp/xmlrpc
http://ping.weblogalot.com/rpc.php
http://www.blogdigger.com/RPC2